The 2021 Subaru Love Promise Customer and Community Commitment Award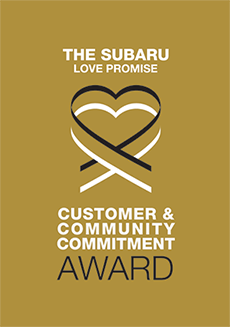 We've been nationally recognized for our dedication to our customers, our community, and the Subaru Love Promise.
We're honored to receive the 2021 Subaru Love Promise Customer and Community Commitment Award. This award nationally recognizes elite Subaru retailers who provide an exceptional customer experience at every interaction with Subaru. These retailers have also demonstrated an outstanding commitment to supporting passions and causes in their local communities in important areas such as the environment, community, health, education, and pets.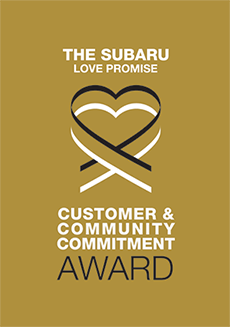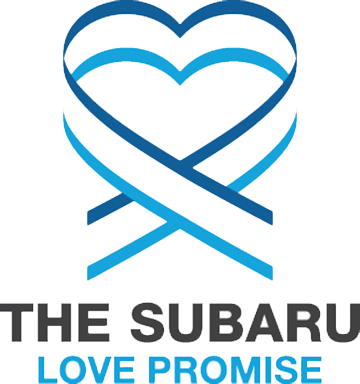 What is the Subaru Love Promise?
Subaru and our retailers believe in making the world a better place and the Subaru Love Promise is our vision of respecting all people. This is our commitment to show love and respect to our customers and to work to make a positive impact in the world.
How is Proctor Subaru dedicated locally to the Love Promise?
Our Love Promise can be seen in various partnerships with local charities and non-profits. We're grateful for the opportunity, not only to be a part of our community, but to serve it as well.
Leon County Humane Society
Love Promise Stories from Proctor Subaru
Subaru and Proctor Subaru believe in making a positive impact on the communities in which we live and work. We uphold that belief through our Love Promise Community Commitment. Every month, we select inspiring stories from customers and partners from around our area who strive to support our collective commitment and feature them here
Welcome To The Proctor Family! - Donna P
I purchased a new Subaru Forester Limited from your dealership. I did a lot of research before going to Proctor Subaru and I knew that I definitely wanted a Forester. I will finally be retiring next year and wanted to have a vehicle that I felt secure and safe with since I plan on this being my forever car. Although I knew what I wanted I was very nervous about making such a large purchase. Frank Johnson was very patient with me as I asked all my questions during and after the test drive. He also explained all the new technology and made sure I was comfortable with it. I am very happy with my new Subaru and very happy to be part of the Proctor family. Love, Love, Love my Subaru!!!
---
Exploring Our New Home - Teddy and Jess R
We worked with Will to get us into a Forester Sport in preparation for coming out west to New Mexico. We love the all-wheel-drive and X Mode for getting back into the woods so we can explore hiking trails in our new home. Plus there's plenty of room for us to bring our dog and friends along.
---
Second Harvest/Envision No Hunger Campaign - 2021 - Alexandra M
Proctor Subaru is proud to support the Second Harvest Envision No Hunger Backpack Program again this year. Many children in the Big Bend community suffer from food insecurity with limited access to nutritious foods. This program provides food to children in vulnerable areas to ensure they do not go hungry on the weekends, a time when they often miss meals. We want to make sure that no child has to go hungry by making an immediate and direct impact on children and families in our local region. We believe it is crucial that we play a role in giving back to our wonderful community.
---
Superb Service at Subaru! - Alexa L
I love going to Proctor Subaru. I am always greeted in the driveway by the technician with a warm welcome. They are always efficient and timely and I love sitting and working in the waiting area. Thanks to Proctor, getting an oil change isn't a hassle. Even when my free services were up I still wanted to pay to go to Proctor Subaru.
---
Rekindled Subielove! - April 2021 - Amy P
Proctor Subaru Delivery Specialist, John Hodge and I rekindled our love. Subielove, that is. There's nothing more Subiemantic than sitting in a freshly mudded up Crosstrek going over all the dope features with someone as cool as John! Instead of a candle lit dinner, it was a Starlink 8-inch Multimedia Navigation lit talk about X-mode and the adorable little buttons on my rearview mirror. John let me down gently, and didn't break my heart, when he told me I couldn't use them. Because they are for a garage door opener, and I don't have a garage. I left there with a deep sense of satisfaction. Satisfaction that I now know my Subaru better than I ever have!
---
The Perfect Fit - Steven B
I first visited Proctor Subaru in 2010, where I met Hank Smith. Hank convinced me that the combination of Subaru and Proctor Subaru was the perfect fit for my automobile needs. I ended up with my first Subaru, a 2011 Forester Premium. I drove the Forester for four years, it was the primary transportation for my wife and me on many road trips to the mountains. I eventually decided I wanted a few more modern technology and comfort features and in 2015 I traded my Forester for an Outback Limited. The Outback has served us well for the last four and a half years, as has the service department at Proctor Subaru. We've traveled the east coast camping and sightseeing and hope to soon travel out west. I am looking forward to many more years of service from the Outback and Proctor Subaru.
---
Trust & Reliability - Marcus B
We always have our cars serviced at Proctor. This is our second Outback and we are pleased with the service. We drive 60 miles to do so! Got a call from a friend last evening where he needed to pick up a canoe in Andalusia, Alabama - two and a half hours away. With just over half a tank of gas, I could leave home knowing I could make the trip AND fit a 14-foot canoe on top.
---
No Hassle, No Pressure - 2020 - Jayne S
My car buying experience was the least stressful I have ever had. No hassling. No pressure. No back and forth for days. No harassing phone calls and emails. All went super smooth. I also love how my little dog (my copilot) is welcomed at Proctor Subaru.
---
New Little One, New Subaru! - 2020 - Adam D
Proctor Subaru helped us get into our Outback shortly before the arrival of our son, Elliott. We wanted a safer car and something with more storage capacity/options than our previous car. They were able to work out a financing plan that worked for us, as well as getting our color choice shipped from another dealership - can't beat that sexy Venetian Red Pearl! Thank you, Proctor Subaru!! Elliott certainly enjoys the new car! Thank you again for helping us with Subi - we love her and look forward to more memories with her!
---
Well Worth The Trip - 2020 - Abel C
Myron and Ellen S. from Apalachicola, FL, made the 2-hour drive to Tallahassee to get their oil changed on their Forester at Proctor Subaru's Service Center. While waiting, they were looking around the lot and were approached by a salesperson, Will Gates, who gave them a local restaurant recommendation since they happened to be looking for a local place to find lunch. Afterwards, they came back and test drove a Crosstrek, and fell in love. The larger body style of the new Forester compared to their older model was a bit too large for them, so the 2021 Crosstrek Sport was the perfect fit. Abel Correa, Business Development Manager from Proctor Subaru, went the extra mile by assisting them with their paperwork outside in order to make them more comfortable with social distancing as they completed their purchase. Thanks to the attentive and courteous service at Proctor Subaru, Myron and Ellen had a safe and smooth experience that was well worth the trip and left with a brand new car!
---