The 2021 Subaru Love Promise Customer and Community Commitment Award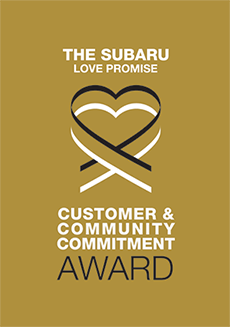 We've been nationally recognized for our dedication to our customers, our community, and the Subaru Love Promise.
We're honored to receive the 2021 Subaru Love Promise Customer and Community Commitment Award. This award nationally recognizes elite Subaru retailers who provide an exceptional customer experience at every interaction with Subaru. These retailers have also demonstrated an outstanding commitment to supporting passions and causes in their local communities in important areas such as the environment, community, health, education, and pets.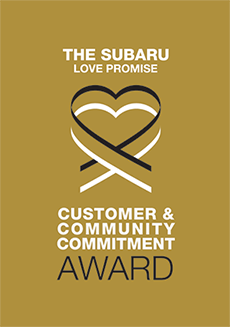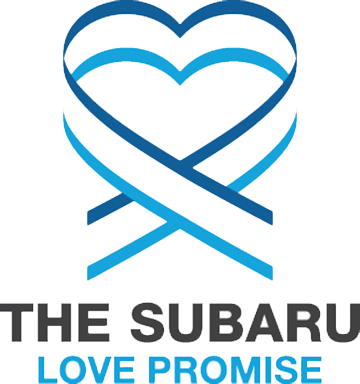 What is the Subaru Love Promise?
Subaru and our retailers believe in making the world a better place and the Subaru Love Promise is our vision of respecting all people. This is our commitment to show love and respect to our customers and to work to make a positive impact in the world.
How is Proctor Subaru dedicated locally to the Love Promise?
Our Love Promise can be seen in various partnerships with local charities and non-profits. We're grateful for the opportunity, not only to be a part of our community, but to serve it as well.
Leon County Humane Society
Love Promise Stories from Proctor Subaru
Subaru and Proctor Subaru believe in making a positive impact on the communities in which we live and work. We uphold that belief through our Love Promise Community Commitment. Every month, we select inspiring stories from customers and partners from around our area who strive to support our collective commitment and feature them here
Second Harvest/Envision No Hunger Campaign - 2021 - Alexandra M
Proctor Subaru is proud to support the Second Harvest Envision No Hunger Backpack Program again this year. Many children in the Big Bend community suffer from food insecurity with limited access to nutritious foods. This program provides food to children in vulnerable areas to ensure they do not go hungry on the weekends, a time when they often miss meals. We want to make sure that no child has to go hungry by making an immediate and direct impact on children and families in our local region. We believe it is crucial that we play a role in giving back to our wonderful community.
---
Superb Service at Subaru! - Alexa L
I love going to Proctor Subaru. I am always greeted in the driveway by the technician with a warm welcome. They are always efficient and timely and I love sitting and working in the waiting area. Thanks to Proctor, getting an oil change isn't a hassle. Even when my free services were up I still wanted to pay to go to Proctor Subaru.
---
Rekindled Subielove! - April 2021 - Amy P
Proctor Subaru Delivery Specialist, John Hodge and I rekindled our love. Subielove, that is. There's nothing more Subiemantic than sitting in a freshly mudded up Crosstrek going over all the dope features with someone as cool as John! Instead of a candle lit dinner, it was a Starlink 8-inch Multimedia Navigation lit talk about X-mode and the adorable little buttons on my rearview mirror. John let me down gently, and didn't break my heart, when he told me I couldn't use them. Because they are for a garage door opener, and I don't have a garage. I left there with a deep sense of satisfaction. Satisfaction that I now know my Subaru better than I ever have!
---
The Perfect Fit - Steven B
I first visited Proctor Subaru in 2010, where I met Hank Smith. Hank convinced me that the combination of Subaru and Proctor Subaru was the perfect fit for my automobile needs. I ended up with my first Subaru, a 2011 Forester Premium. I drove the Forester for four years, it was the primary transportation for my wife and me on many road trips to the mountains. I eventually decided I wanted a few more modern technology and comfort features and in 2015 I traded my Forester for an Outback Limited. The Outback has served us well for the last four and a half years, as has the service department at Proctor Subaru. We've traveled the east coast camping and sightseeing and hope to soon travel out west. I am looking forward to many more years of service from the Outback and Proctor Subaru.
---
Trust & Reliability - Marcus B
We always have our cars serviced at Proctor. This is our second Outback and we are pleased with the service. We drive 60 miles to do so! Got a call from a friend last evening where he needed to pick up a canoe in Andalusia, Alabama - two and a half hours away. With just over half a tank of gas, I could leave home knowing I could make the trip AND fit a 14-foot canoe on top.
---
No Hassle, No Pressure - 2020 - Jayne S
My car buying experience was the least stressful I have ever had. No hassling. No pressure. No back and forth for days. No harassing phone calls and emails. All went super smooth. I also love how my little dog (my copilot) is welcomed at Proctor Subaru.
---
New Little One, New Subaru! - 2020 - Adam D
Proctor Subaru helped us get into our Outback shortly before the arrival of our son, Elliott. We wanted a safer car and something with more storage capacity/options than our previous car. They were able to work out a financing plan that worked for us, as well as getting our color choice shipped from another dealership - can't beat that sexy Venetian Red Pearl! Thank you, Proctor Subaru!! Elliott certainly enjoys the new car! Thank you again for helping us with Subi - we love her and look forward to more memories with her!
---
Well Worth The Trip - 2020 - Abel C
Myron and Ellen S. from Apalachicola, FL, made the 2-hour drive to Tallahassee to get their oil changed on their Forester at Proctor Subaru's Service Center. While waiting, they were looking around the lot and were approached by a salesperson, Will Gates, who gave them a local restaurant recommendation since they happened to be looking for a local place to find lunch. Afterwards, they came back and test drove a Crosstrek, and fell in love. The larger body style of the new Forester compared to their older model was a bit too large for them, so the 2021 Crosstrek Sport was the perfect fit. Abel Correa, Business Development Manager from Proctor Subaru, went the extra mile by assisting them with their paperwork outside in order to make them more comfortable with social distancing as they completed their purchase. Thanks to the attentive and courteous service at Proctor Subaru, Myron and Ellen had a safe and smooth experience that was well worth the trip and left with a brand new car!
---
Friendly, Fast Sales & Service - 2020 - Jane C
I LOVE my 2017 Outback that I bought at Proctor Subaru, just before moving back to Tallahassee. I knew I wanted a certified, pre-owned Outback to handle the hills and curvy roads of Tally and to accommodate all that I do between work, gym, and grandkids! The sales department matched me with the perfect car at the perfect price and made buying a breeze! I use the service department for all regular maintenance which is about all I have needed. They are always friendly, fast AND thorough and prices are very reasonable! I was always leery of using a dealer's service department but I wouldn't go anywhere else! Thank you, Proctor Subaru, for helping me relocate to this great city!
---
Wonderful New Car Buying Experience! - Tabitha H
I had a wonderful experience buying my new car!! This was my first time buying a car from a dealership, and the sales staff at Proctor Subaru exceeded my expectations. I was really nervous about the entire process, but my salesperson made me feel at ease and told me my best options in terms of making a down payment and possible payment scenarios. I didn't feel rushed to make a purchase, and when I expressed that we were in the preliminary steps of our car buying process, my salesperson encouraged me to look at other vehicles and test drive everything. I obviously ended up coming back to the dealership and could not be happier with my new Outback. I was able to order the car and it arrived sooner than expected! On top of everything, I received a follow-up call to make sure I was enjoying my car and a tin of cookies!! I love, love, love Proctor Subaru and every part of my car buying experience.
---
Second Harvest Backpack Program - July 2020 - Alexandra M
Proctor Subaru was proud to support the Second Harvest Envision No Hunger Backpack Program to help ensure no child goes hungry. We live in a wonderful community, but right now, we also happen to be one of the most food insecure areas in the entire State of Florida. The Backpack Program was created in an effort to make sure that children, one of our most vulnerable populations, do not go without nutritious food throughout the weekend. We believe in giving back to the community that we live in and serve.
---
Home Fur The Holidays December 2019 - Lisa G
Proctor Subaru held its annual "Home Fur The Holidays" event on December 14th, 2019. Guests walked into the showroom greeted by cookies, cupcakes, lunch from Mission BBQ and a great swag bag filled with a first aid kit and a portable dog water bowl! Whether they were there to adopt a dog or bring in their pup for a picture with Santa, it was a great time! Twenty dogs from the Leon County Humane Society were adopted!
---
St. Marks Stone Crab Festival 2019 - Don G
After a brief hiatus due to Hurricane Michael, the 2019 St. Marks Stone Crab Festival went off without a hitch. Proctor Subaru's presence at the event was felt, and seen, immediately upon entering the event area. With free koozies, tote bags and the promise of the chance to win a Yeti cooler, people flocked to check out all that Proctor Subaru had to offer. Up and down the sides of the street, assorted food vendors displayed signs with claims of their stone crab legs being the "World's Best". Event goers were treated to live music while they enjoyed all of the delicious dishes that the event had to offer. All in all, 2019 was a great year for the St. Marks Stone Crab Festival.
---
Tee Off For Tots Social and Car Raffle 2019 - Nigel A
The annual Tee Off Social and Raffle benefits the Proctor Endowment for Children with Diabetes and the Tallahassee Memorial Children's Center. Setting itself apart from previous years' iterations, the 2019 Tee Off Social and Car Raffle was hosted at Iamonia Farms - a serene and beautiful setting. The fresh scenery, away from the epicenter of Tallahassee, was a welcomed change by the guests. Those who attended the event were treated to a plethora of food, drinks, live music and other such entertainment! There truly was a little bit of something for everyone, even for the little ones that were in attendance. As the sun began to set over Iamonia Farms, the winner of the 2020 Subaru Outback Premium was announced to a large and eager crowd.
---
Paws Fur A Cause - Lisa G
Proctor Subaru's "Paws Fur A Cause" pet adoption event on March 16th, 2019 was a record-breaking success! The day started off with goat and bunny yoga. This event gave 66 dogs from the Leon County Humane Society their fur-ever home! Attendees enjoyed live music, food from Mission BBQ and drinks from GrassLands Brewing Company and all the proceeds were donated to the Leon County Humane Society! With the help of our community, we were able to donate $4,500 to the Leon County Humane Society!
---
Home Fur The Holidays 2018 - Lisa G
Where can you find Santa, dozens of friendly dogs, and a hearty offering of tasty treats? At Proctor Subaru's annual Home Fur the Holidays event! On Saturday, December the 8th, Proctor Subaru's annual adoption event witnessed over 19 dogs find forever homes. Smiles were everywhere as wagging tails and furry grins greeted you at the door. Everyone left with full hearts and tummies from the plethora of sweets from the Cake Shop and cheesy goodness from Tally Mac Shack. Thank you to everyone that helped make this event possible and to Proctor Subaru and Leon County Humane Society. We'll see you all next year!
---
Tee Off For Tots 2018 - Jessica Z
The 2018 annual Tee Off for Tots Par-Tee was a huge success! The event took place on Sunday, October 28th at Proctor Subaru. The proceeds from all of the tickets sold went to the Proctor Endowment for Children with Juvenile Diabetes and the Children's Center at TMH. A delicious dinner was provided by The Seineyard Seafood Restaurant and desserts were provided by SoDough Baking Co. Live music was performed by the band Revival. Thank you to all the employees who worked this event and made it one to remember!
---
You're My Type Blood Drive 2018 - Diane A
On Saturday, February 10th, Proctor Subaru hosted the "You're My Type" blood drive. This was hosted in collaboration with One Blood. A total of 60 units of blood were collected with those units having the potential to save up to 180 sick and injured patients from local area hospitals. A big thank you to all that donated. We appreciate our helper: Lydia Vukic, Alyssa Stroud, Laura Jones, Regina Garay, Chantal Gainous, Austin Holm, and Erik Thompson.
---
Pets and Their People 2018 - Lisa G
Proctor Subaru's "Pets and Their People" pet adoption event was a huge success on March 17th, 2018. 18 dogs were adopted through the Leon County Humane Society. Attendees enjoy brunch from Street Chefs Food Truck, Bloody Marys and Mimosas from GVO, family and pet photos with Selfietally, live music and of course lots of Proctor Subaru giveaways! Everyone had a great day meeting pets and people from throughout the community. All of the pets featured for adoption by The Leon County Humane Society found their forever homes and we could not be happier with a result like that. Thank you to our volunteers: Alyssa Stroud, Sarah Angelotti, Hallie Dawkins, Angela and Isabella Holcombe, Lydia Vukic, Laura Jones, Erik Thompson, Priyanka Raj, Natalie Bernsee, Bobby Riley, Tony Watts, Austin Holm, Chantal Gainous, and Anthony Lopez!
---
Home Fur The Holidays 2017 - Lisa G
Proctor Subaru hosted a Home Fur The Holidays even on December 16th, 2017. This is an annual pet adoption event, hosted in collaboration with the Leon County Humane Society. Furry friends had their pictures taken with Santa. Food was provided by Street Chefs food truck and sweet treats contributed from The Cake Shop. Attendees received a goodie bag full of Subaru branded pet supplies. Overall, 15 dogs were adopted and are now in their forever homes.
---
2017 Stone Crab Festival - Charlene B
Proctor Subaru was the presenting sponsor at the 2017 Stone Crab Festival on Saturday, October 28th. The festival is dedicated to promoting the rich history and resources of the St. Marks area. Portions of this years profit from the festival will be donated to local St. Marks programs. There were plenty of fresh-from-the-Gulf Stone Crabs and all kinds of local delicacies like fluffy fries, alligator on a stick, and every type of seafood! Local vendors sold art, jewelry, and hand crafted furniture. Thank you to our volunteers for representing Proctor Subaru at this fun filled event! There was over 1,000 people in attendance!
---
Tee Off For Tots 2017 - Laura J
The 2017 annual Tee Off for Tots Par-Tee was a huge success! The event took place on Sunday, October 22nd at Proctor Subaru. Over 700 tickets were sold and those proceeds went to the Proctor Endowment for Children with Juvenile Diabetes at the TMH Foundation. A delicious dinner was provided by The Seineyard Seafood Restaurant and desserts were provided by Social Catering. Live music was performed by the band SMITH. The night ended with one lucky guest winning a brand new Subaru Crosstrek! Thank you to all the employees who worked this event and made it one to remember! ¿
---
Puppy Yoga - Lisa G
The Leon County Humane Society held a puppy yoga event at Proctor Subaru on Sunday, February 12th! They raised $1,117 in fundraising, gained 1 new LCHS membership, and have 4 pending puppy adoptions. There was approximately 120 participants and 25 puppies at the event. Thank you to everyone who participated! We would like to especially thank Proctor Subaru Tallahassee for providing such a perfect space for this hilarious, adorable event. Proctor Subaru has always shown an incredible amount of heart for animals in Tallahassee.
---
You're My Type - Blood Drive - Diane A
You're My Type Blood Drive at Proctor Subaru. There were 71 Donors registered! 28 Donors were first time donors at your drive! Woo Hoo! 8 Donors did double red cells! AWESOME! A total of 68 units was collected! So those 68 units will account for approximately 204 blood products available for transfusion to sick and injured local hospital patients. On behalf of the patients who have received these units, we express our heartfelt gratitude and relay a thank you from the families who are able to create more memories with their loved ones as a result of the wonderful contributions Proctor Subaru has provided.
---
Pets & Their People 2017 - Lisa G
Twelve dogs found their new forever homes at this year's event! We are so thrilled to have been part of another amazing Pet's and Their People organized by Tallahassee Magazine and hosted by Proctor Subaru Tallahassee! Thank you to everyone who came out on Saturday, March 18th and especially to those who adopted their new furry friend. Each adoption means another life saved! We want to take a moment to sincerely thank the teams of Tallahassee Magazine, Proctor Subaru Tallahassee and Compass Marketing & Consulting for making this fantastic event happen every year. We are honored to be a part of making so many people and their pets happy.
---