The SUBARU STARLINK In-Vehicle Technology package is a relative newcomer to the world of in-car technology and has a lot to offer our customers. STARLINK has been designed to provide Subaru drivers with complete hands-free connectivity to a wide range of features and built-in safety services. Starting with the 2016 model year, select Subaru models will be equipped with 4G LTE cellular connectivity via the AT&T network offering nationwide connectivity.
STARLINK will also provide Subaru owners with access to a number of features offered via SiriusXM Connected Vehicle Services. These include automatic collision notification, stolen vehicle location and recovery, monthly vehicle health reports, and the ability to lock and unlock your vehicle using your smart phone.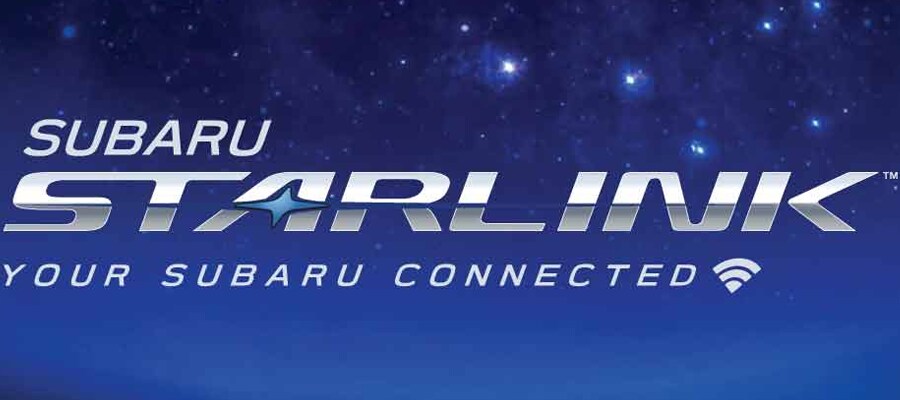 Connectivity
The new STARLINK system has been designed to connect to virtually any iOS or Android powered device. This connection is made via Bluetooth and allows you to access a wide range of apps. This includes the MYSUBARU app that gives access to iHeart Radio, Pandora, Spotify, and Stitcher Radio. Not only will you have access to streaming music, but also a number of other services such as: news, weather, and your calendar.
Navigation
STARLINK has been designed to use the 7-inch screen to help you get where you are going via a built in voice activated GPS navigation system. With this system you simply tell it the address of your destination and a map with step-by step driving instructions will be displayed on the screen. The system also offers vocal step-by-step instructions to ensure you never have to take your eyes off the wheel while driving.
---
Included Safety Features
While entertainment may be an important part of the STARLINK system, safety has always been a very important part of any Subaru. There are a number of very important safety and security features in the STARLINK system intended to help keep you and your family safer on today's highways.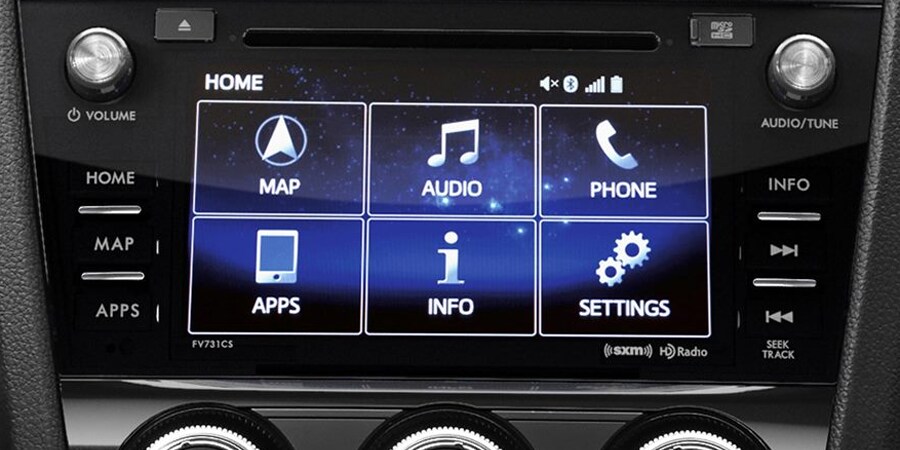 ---
Stolen Vehicle Recovery
STARLINK has been designed to work with the police to help locate and recover your Subaru should it ever be stolen.
---
SOS Emergency Assistance
If you need help anywhere in all 50 states and the District of Columbia, all you have to do is press the bright red "SOS" button in the overhead console. You will be connected directly to a Subaru advisor who can help.
---
Automatic Collision Notification
In the event you are in any type of accident in which one or more airbags are deployed, a STARLINK advisor will be notified immediately. This service is available 24 hours a day, 365 days a year and can send you the appropriate emergency services personnel.
---
Diagnostic Alerts
The STARLINK system constantly monitors the condition of your Subaru and runs continuous diagnostics. Should any warning light come on, the system will automatically send you an email explaining why the light has come on.
---
Enhanced Roadside Assistance
Thanks to the built in GPS system, STARLINK can pinpoint your exact location in the event you should need to summon emergency roadside assistance services. All you need to do is press the blue "I" button located in the overhead console to summon the help you need.
---
Remote Services
Using your iOS or Android powered desktop or mobile device, you can use STARLINK to access a wide range of your Subaru's features. Among these are the ability to lock and unlock your vehicle, sound the horn, turn on the lights, and activate the remote vehicle locator.
---
Security Alarm Notification
In the event the security alarm is activated, STARLINK will send you a notification via a text message, an email, or an automated phone call. This way you can contact the police and may be able to avoid having your Subaru broken into or stolen.
The Subaru STARLINK system offers a number of other very useful services. To learn more about them contact one of the knowledgeable and friendly sales team members at Proctor Subaru.
Proctor Subaru
1707 Capital Cir NE
Tallahassee, FL 32308