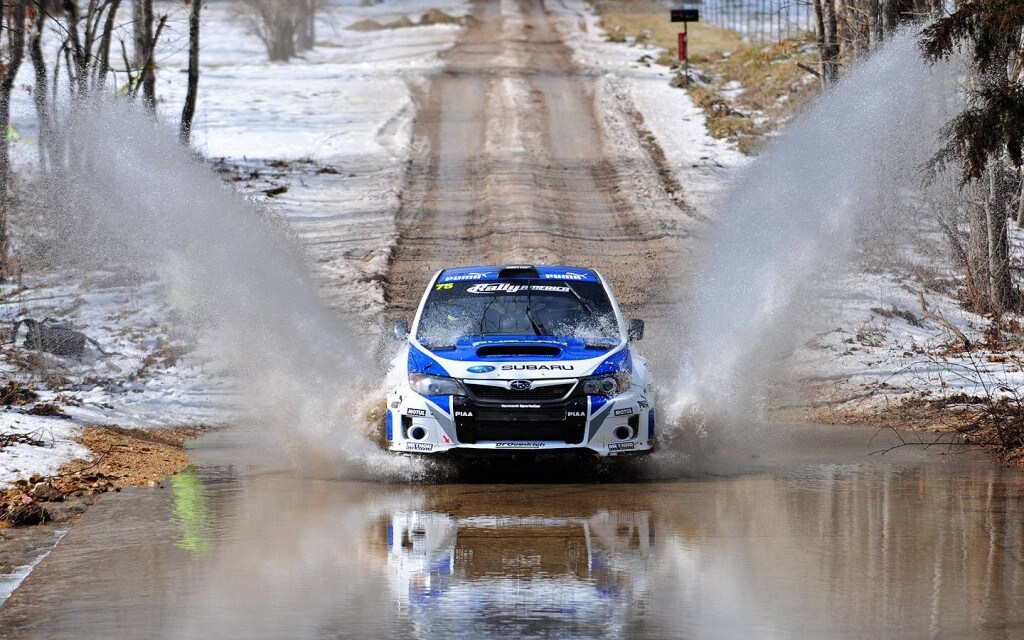 Subaru Rally Team USA at the 2013 Rally in the 100 Acre Wood. Image courtesy of thecarconnection.com
Subaru and its US distributor, Subaru of America, have long sold all-wheel drive cars on the US market. The all wheel drive design utilized by Subaru has made their sports cars a natural fit in the world of rally racing.
Riding a tidal wave of popularity surrounding rally racing, fueled in part by adventure and extreme sports stars like Travis Pastrana, and supported by the popularity of the X Games phenomenon, Subaru has become the household name of rally racing in the US. For good reason, too. The Subaru sports cars, particularly the WRX STI, are icons of tough engineering, fine performance tuning and race inspired styling. When Subaru badged its Impreza with WRX, there was no doubt which market they were aiming for. After all, WRX is shorthand for World Rally Cross.
Meet the Subaru Rally Team USA
Travis Pastrana and David Higgins test their Subaru Rally Team USA cars prior to the Rally in the 100 Acre Wood in Missouri, USA.
Assembled in 2001, sponsored by Subaru and managed by Vermont SportsCar, the Subaru Rally Team USA (SRTUSA) has been dominating North American rally racing for more than ten years. Participating in events such as Rally America National Championship, the Canadian Rally Championship and even the World Rally Championships, SRTUSA pulls down big wins and drives the sport to new popularity. The men behind the wheel of the hottest WRX STI race machines are:
Bucky Lasek
Originally from Baltimore and now living in Southern California, Lasek is an accomplished skateboarder with a pile of X Games gold medals. He was selected for the SRTUSA in 2012. Bucky has experience racing everything from karts to supercars.
Sverre Isachsen
Since his early years in Norway, Sverre has been addicted to motorsports. Known as the "Viking Warrior", Sverre was the European RallyCross Champion 3 years in a row.
Travis Pastrana
An action sport icon, Maryland native Travis Pastrana has won X Games gold in several motorsports events on two wheels and four. Chosen to lead the SRTUSA in 2006, he went on to win the Rally America National Championship four consecutive times in the mid-2000s.
Ramana Lagemann
A Subaru of America driver in from 2002 through 2004, Lagemann joined the team as the youngest manufacturer backed driver in the sport. Lagemann won many stages and qualified for the X Games twice while driving for Subaru and Vermont SportsCar.
David Higgins
Winner of multiple British and American Rally championships, Higgins joined SRTUSA in 2011 and promptly won three consecutive titles. A native of the Isle of Man (any wonder he's a race car driver?), Higgins was motorcycle racing at age 8 and won his first Rally Title in 1993. He currently holds the fastest time up Mt. Washington (New Hampshire), having beaten Travis Pastrana's time.
The Car
As you might guess, the title winning WRX STI that these men use in rally and rallycross races is not the car that passed you on the way to work this morning. Modifying and tuning the Impreza WRX is the work of the folks at Vermont SportsCar.
After stripping the car to its frame, the shell is lightened and strengthened, a full spec roll cage is built and driver restraints are installed. The car's suspension and steering equipment is redesigned to increase wheel travel and sustain the punishing impacts that racing imparts. Special gravel brakes are installed.
Meanwhile, the engine is being tuned to generate over 300 horsepower and as much as 450 ft-lbs of torque. For comparison, that WRX Impreza that passed you this morning came from the factory with something in the neighborhood of 230 horsepower and 240 ft-lbs of torque. The engine is fitted with an electronic control system to both monitor the engine and transmission and to communicate systems status with the driver.
Of course, when you boost the power, particularly the torque of an engine, you run the risk of shredding the transmission. The smaller, smooth running teeth of the standard transmission are built as a compromise to driver comfort in the stock automobile. Comfort is less of a concern for the race car driver who wants lightning fast shifts with instant power response and who doesn't want to fail to finish a race. Toward this goal, a 'dog box' transmission is installed. The dog box transmission is designed with larger teeth that can take the full throttle application of 400 ft-lbs of torque. Computer programmable, driver controlled differentials send the power out to the wheels.
About Rally and RallyCross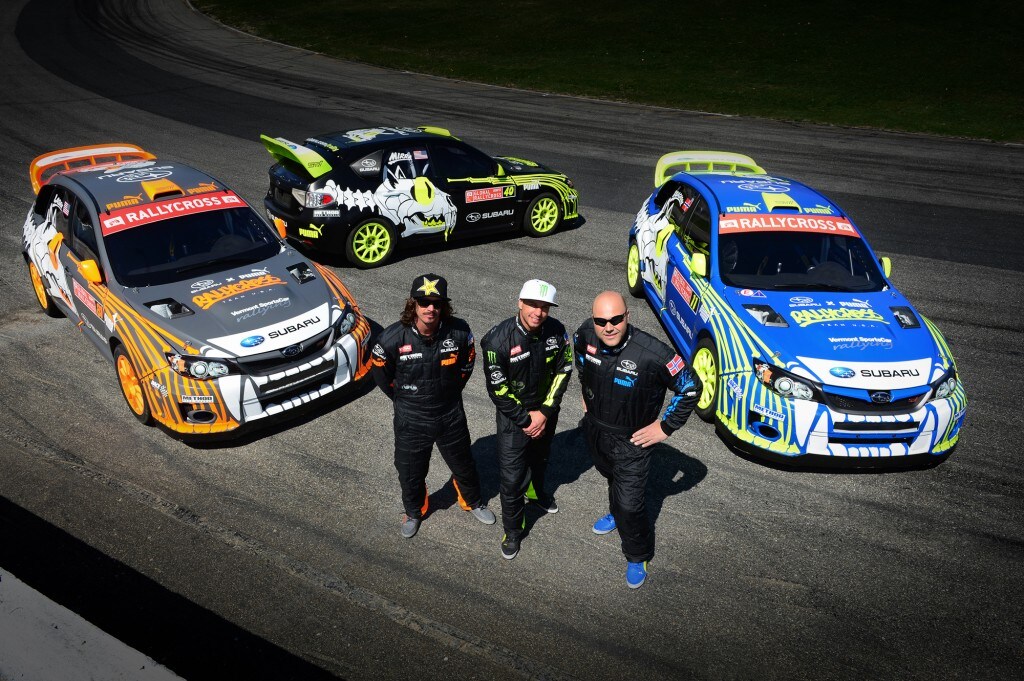 The Subaru Puma RallyCross Team USA. Image courtesy of http://www.motorauthority.com/.
Rally racing can generally be described as the driving of street legal cars from place to place over a course with stages wherein either pure speed, or the achievement of a specified time, is rewarded. Stage rallies, those races occurring over closed courses, have become predominant at the professional level. Road rallies, wherein accurate time keeping, vehicle reliability and navigation are tested over long distances, are primarily amateur events.
Global RallyCross is the racing of highly modified cars over a closed, mixed surface course in a sprint format. These races focus more on vehicle handling and driver skill and less on pure speed and they occur on primarily unimproved courses including gravel, dirt, and hill jumps.
Subaru and Rallycross
Rallycross is such a popular format that Puma joined the sponsorship team and has led to what is sometimes referred to as the Subaru Puma RallyCross Team USA. For the most part, the drivers sponsored by Subaru often participate in both formats as schedules allow. Rallycross is heavily sponsored by RedBull in the US and is the format used by the X Games. The Global RallyCross series is, of course, sponsored by Subaru.
To watch video of the Rally and RallyCross events that Subaru sponsors, check out their online video channel Launch Control. For more Subaru videos and helpful car tips, visit our YouTube channel!