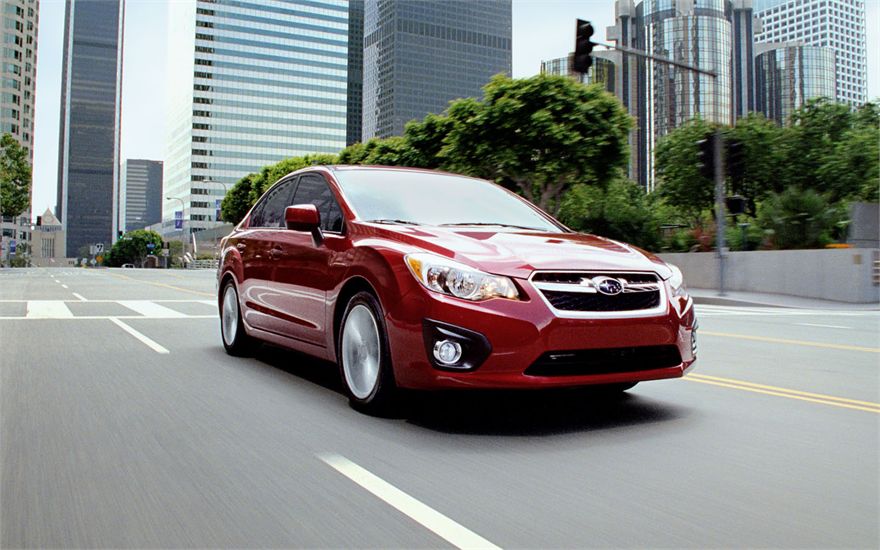 2.0i Limited Subaru Impreza in Venetian Red Pearl. Image courtesy of http://www.subaru.com/
Since its inception in 1992, The Subaru Impreza has been one of the most impressive and popular compact cars in the United States. Particularly among younger buyers or those who are purchasing their first car, the Impreza stands out as great on size, excellent on fuel economy, and a perfect value with extra safety features. That commitment remains unchanged for the 2014 model year, which was decidedly more of an evolutionary set of changes made behind the scenes by Subaru. The 2014 Impreza offers a number of excellent standard features, some great upgrades for today's buyers, and a number of great aesthetic and mechanical selling points that will make this compact sedan a top pick for young buyers, small families, and those on a budget.
Exterior Styling Remains Fun and Engaging for the 2014 Model Year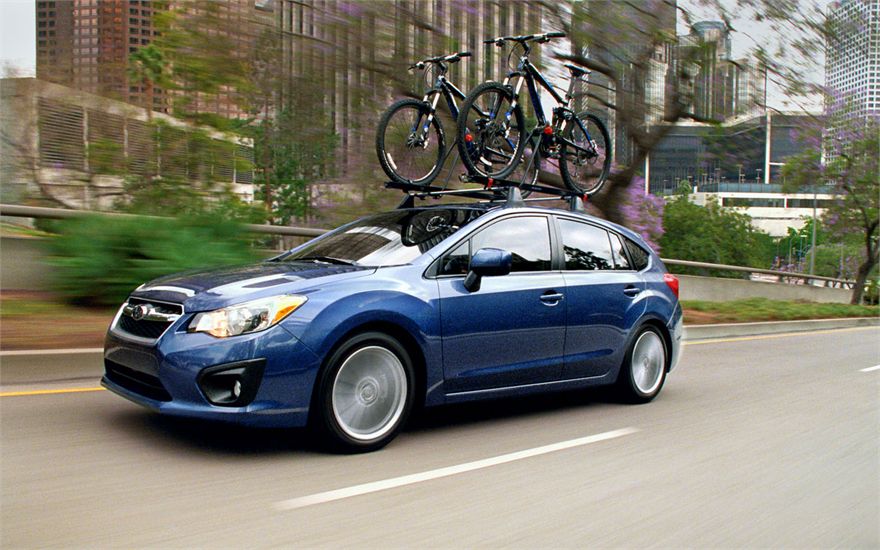 2.0i Premium with accessory crossbar set. Image courtesy of http://www.subaru.com/
The Impreza's styling has always been decidedly sporty, largely in an attempt to lure the younger buyers that typically seek compact sedans and hatchbacks. The car's design for 2014 is largely the same as the 2013 model, with swooping lines along the sides and a sporty grill that looks menacing in traffic. As with virtually all model years previous, the 2014 Impreza can be found in a sedan and hatchback designs, with the hatchback model featuring a high powered WRX option for even sportier exterior styling and on-the-road performance.
Though the exterior design of the car has always been one of its biggest selling points, today's consumers will require more than good curb appeal when making their decision. Discovering what's under the hood might make the difference between choosing the Impreza, or opting for one of its many compact rivals.
A Look at Under-the-Hood Features and Performance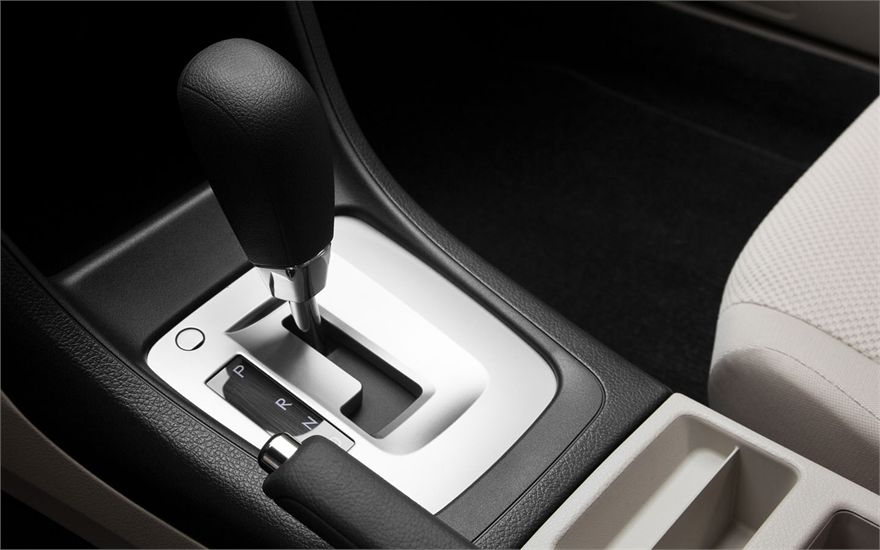 Lineatronic CVT with 6 speed manual mode. Image courtesy of http://www.subaru.com/
The Impreza uses Subaru's unique Boxer engine technology in order to provide a great driving experience. In this lineup, that means buyers get access to a 2.0-liter engine with a four-cylinder design. This is the standard type of engine paired with all but the most luxurious compact cars on the market, so expectations across the board should be pretty high.
Paired with its 148 horsepower performance is the all-wheel drive technology that is virtually impossible to find in any other compact model on the market. In fact, it's this safer, all-wheel drive design that weighs the car down a bit more and causes it to accelerate more slowly than the competition. For those buyers who are interested in a car that doesn't lose its utility in the snow or on rainy days, a somewhat slower rate of acceleration might just be worth it in this case.
The Subaru Impreza can be purchased with either a traditional, 6-speed transmission, or a continuously variable transmission. The addition of the CVT is a decidedly positive improvement for fuel economy, though the entire lineup of compact sedans from Subaru enjoys competitive numbers in this department. Sedans with the traditional transmission can expect combined fuel economy of up to 28 miles per gallon, while the addition of a CVT will boost combined fuel economy to 30 mpg.
Trim Levels: Plenty of Wiggle Room for Tight Budgets
One of the best things about opting for a Subaru over competing sedans is the company's commitment to entry level features and high-end luxury. Buyers really do get what they pay for with the Impreza, which means there's no need to over-spend on unnecessary features or compromise on price for must have additions. It all starts with the entry level 2.0i trim level. Featuring comfortable cloth upholstery, air conditioning, 15 inch wheels, split folding seats, Bluetooth connectivity, iPod controls, and full power accessories, this is a value oriented sedan with no compromises for those on a budget.
Those looking to upgrade their driving experience can advance to the 2.0i Premium trim level. Wheels are upgraded to 16 inches in diameter, while a cargo cover, cruise control, and a center armrest improve comfort for longer trips. The Premium trim can also be equipped with a CVT transmission and an optional Alloy Package. These additions bring 17 inch alloy wheels to the Impreza, as well as a leather wrapped steering wheel, heated mirrors and seats, and a windshield de-icer for particularly cold days.
The upgraded 2.0i Limited model focuses on automation. Buyers of this model get all of the features mentioned earlier, along with automatic climate control, automatic headlights, fog lights, and more. HD radio and a backup camera are added to the mix for even more creature comforts, making the car easier to drive and park no matter how tight the space is. Those in search of sport-tuned feature scan opt for the Sport Premium or Sport Limited trim levels, which give the car a CVT, a more powerful engine, and features like an optional sun roof, cargo rails, and several other essential upgrades.
An Excellent Choice for Buyers on a Budget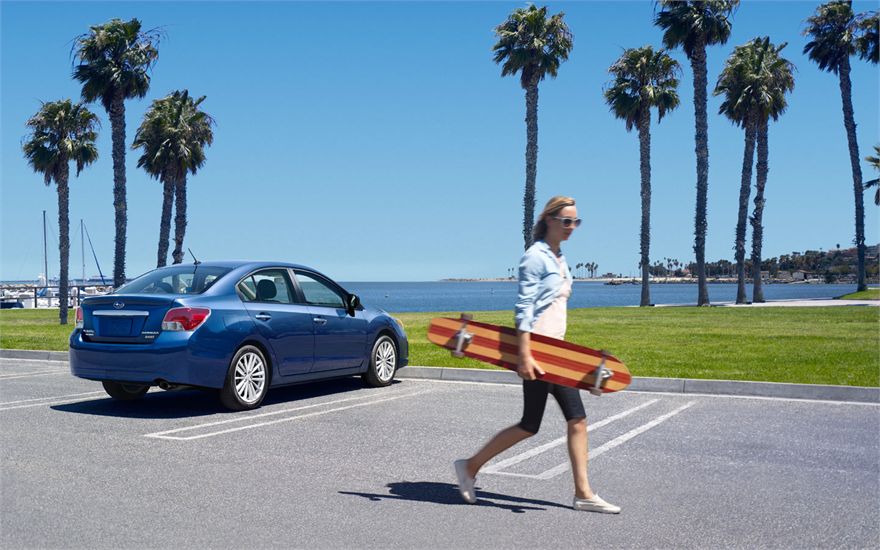 2.0i Limited 4 door. Image courtesy of http://www.subaru.com/
The Subaru Impreza is an affordable sedan at the entry level, but adds a large number of upgrade increments to make sure that those with more to spend can choose only the amount of accessories and add-ons that they can afford. With plenty of space, an appealing exterior design, all-wheel drive, and a Boxer engine, it's really hard for buyers to lose out when they choose this unique model.