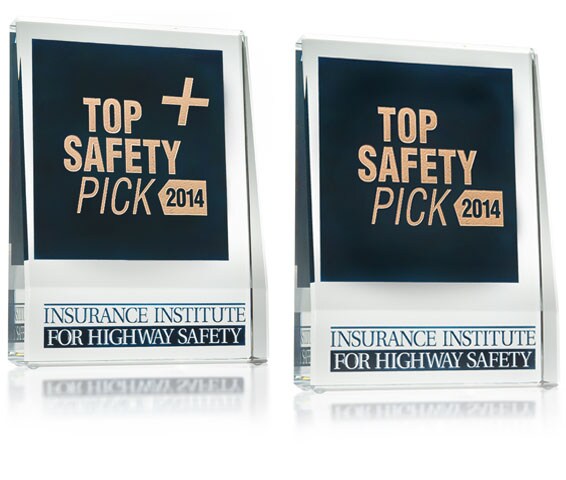 Subaru has consistently been one of the top performers in IIHS safety tests. Image courtesy of http://www.iihs.org/
When a commercial airs that advertises the latest and greatest vehicle model from a major manufacturer, there's one name and acronym that's almost always present: The Insurance Institute for Highway Safety. Referred to as the IIHS in most commercials to save time, this body has a long history of giving cars the authoritative seal of approval they need when advertising accident prevention, driver and passenger safety, and durable materials that will withstand harsh impacts.
Despite its well-known name and its reputation as a leading arbiter of all that is safe and sound about modern automobiles, the background and methods of this organization remain something of a mystery to the average consumer. Before buying another vehicle marked and advertised as a "Top Safety Pick," it's a good idea to learn exactly how the IIHS was formed, which tests determine the vehicles that it endorses, and how its differing labels for those vehicles impact the average consumer.
From the Beginning: A Brief History of the Insurance Institute for Highway Safety
In 1959, three of America's largest private insurance companies created the Insurance Institute for Highway Safety as a way to determine the safety level of vehicles and improve their bottom line. The organization's original purpose was to minimize loss by reducing the damage and injury that occur after an accident. Reducing these two factors would lower the cost of the average claim, saving millions of dollars a year and directly benefiting consumers in the process. Though the organization was a cooperative effort between these three companies for quite some time, it was eventually spun into its own, separate entity after several decades.
Today, the Insurance Institute for Highway Safety is classified as an independent, nonprofit organization. The IIHS is based just outside of the nation's capital, in Arlington, Virginia, and derives the majority of its funding from private insurance corporations and public subsidies. Its work has helped to dramatically reduce the average insurance claim, and has led to major improvements in vehicle safety that have helped to reduce accident fatalities, as well as the number of serious injuries resulting from the typical crash. Their evolution from a crash prevention organization to one that focuses on the science and psychology of accidents has been a major boon to the market overall.
The Tests: What Determines a Top Safety Pick from IIHS?
Over the course of nearly six decades, the IIHS has developed a vehicle rating system that is concerned primarily with "crashworthiness." Essentially, this refers to the vehicle's ability to survive an accident without becoming a total loss, and without inflicting serious injury or death upon those inside the vehicle at the time of the incident. In order to assess this quality, the organization has developed a series of crucial tests that look at every aspect of the vehicle's construction. Currently, five distinct tests are used to judge the vehicle's crashworthiness rating. Each category results in a rating of good, acceptable, marginal, or poor.
#1 Moderate Overlap Front
Designed to improve on the frontal impact test administered by America's National Highway Traffic Safety Administration, the moderate overlap front test exposes the front 40 percent of the vehicle to a crash with a barrier at 40 miles per hour. Because this test measures 40 percent of the vehicle's front overlap, it's a stronger indicator of the crash resistance offered by internal front support structures and external materials.
#2 Small Overlap Front
In this test, only 25 percent of the vehicle's front is exposed to a crash with a barrier at 40 miles per hour. This makes the test even harder for the typical car to pass, and actually resulted in a high rate of failure during the first year when it was administered. The dummy in the car has sensors on every hand, leg, and foot, which more accurately measures the likelihood of passenger injury during such a crash.
#3 Side Crash
This crash exposes both sides of the vehicle to impact with a car of similar size, measuring the impact on individual body parts. Impact factors are tested on both sides, and in all rows of seating, to gain a full understanding of the likely impacts experienced by passengers.
#4 Roof Strength
A car that rolls over can expose passengers to serious injury if the roof structure is not able to withstand the impact. This test uses a simulated crash to test the roof strength and look at the response times of traction or stability control, side impact airbags, and other safety features.
#5 Head Restraints
In order to judge the likelihood that a passenger will suffer from whiplash after an accident, the vehicle's driver's seat is placed on a sled that simulates a crash. Simulations test both front and rear impact scenarios to judge the likelihood of injury.
Ratings: Top Safety Pick vs. Top Safety Pick+
The IIHS administers both Top Safety Pick and Top Safety Pick+ ratings. A vehicle rated as a Top Safety Pick must get a score of "good" in the side and roof impact tests, the head restraint test, and the moderate overlap front test. To be rated a Top Safety Pick+, the vehicle must receive a "good" rating in four out of five tests, with no rating falling below the "acceptable" level.
It's worth noting that Subaru has consistently been one of the top performers in IIHS safety tests. The company's 2014 Impreza and XV Crosstrek, as well as its 2015 WRX, currently qualify as a Top Safety Pick. 2014 Legacy, Outback and Forester all earn distinction as a Top Safety Pick+, making them among the safest choices for families. Those with an eye for safety features have a number of great options available, but few stand up to the high level of safety afforded by an IIHS certified Subaru models currently on the market.