Serving
Tallahassee, FL

,

Monticello, FL

,

Crawfordville, FL

,

Quincy, FL

, and

Thomasville, GA

Offroad vehicles don't just have a place on the trails and dirt roads. These days, people enjoy driving them even in the city because of their smooth handling and ability to manage even perilous weather conditions. There are numerous different offroad, rugged SUVs on the market today, and two popular options are the Subaru Forester and the Jeep Renegade Trailhawk. If you are in the market for your own and you are unsure of which would be the best choice, then consider this comparison. Both of the SUVs have plenty to offer, but you will quickly find one is certainly the better of the two.
2015

Subaru

Outback

Specs
| | |
| --- | --- |
| Engine: | 2.5-Liter |
| Fuel Capacity: | 15.9 gallons  |
| Rear Leg Room: | 38.0 inches |
| Torque: | 174 ft-lbs @ 4100 RPM |
| Fuel Economy: | |
---
2015

Jeep

Renegade Trailhawk

Specs
| | |
| --- | --- |
| Engine: | 2.4-Liter |
| Fuel Capacity: | 12.7 gallons  |
| Rear Leg Room: | 35.1 inches |
| Torque: | 175 ft-lbs @ 3900 RPM |
| Fuel Economy: | |
How Do The Safety Features Compare?
Every year, U.S. News and World Report offers a listing of vehicles and their safety ratings. The information is gathered from the National Highway Traffic Safety Administration and the Insurance Institute for Highway Safety along with user reviews and information from their own experts. The Jeep Renegade Trailhawk received an overall rating from U.S. News at 8.1. That's fairly high, but it still doesn't compare to the scores for the Subaru Forester. This SUV received a safety rating from U.S. News at a whopping 9.3.
If you are concerned about safety when driving, then this is definitely something to consider before making a vehicle purchase.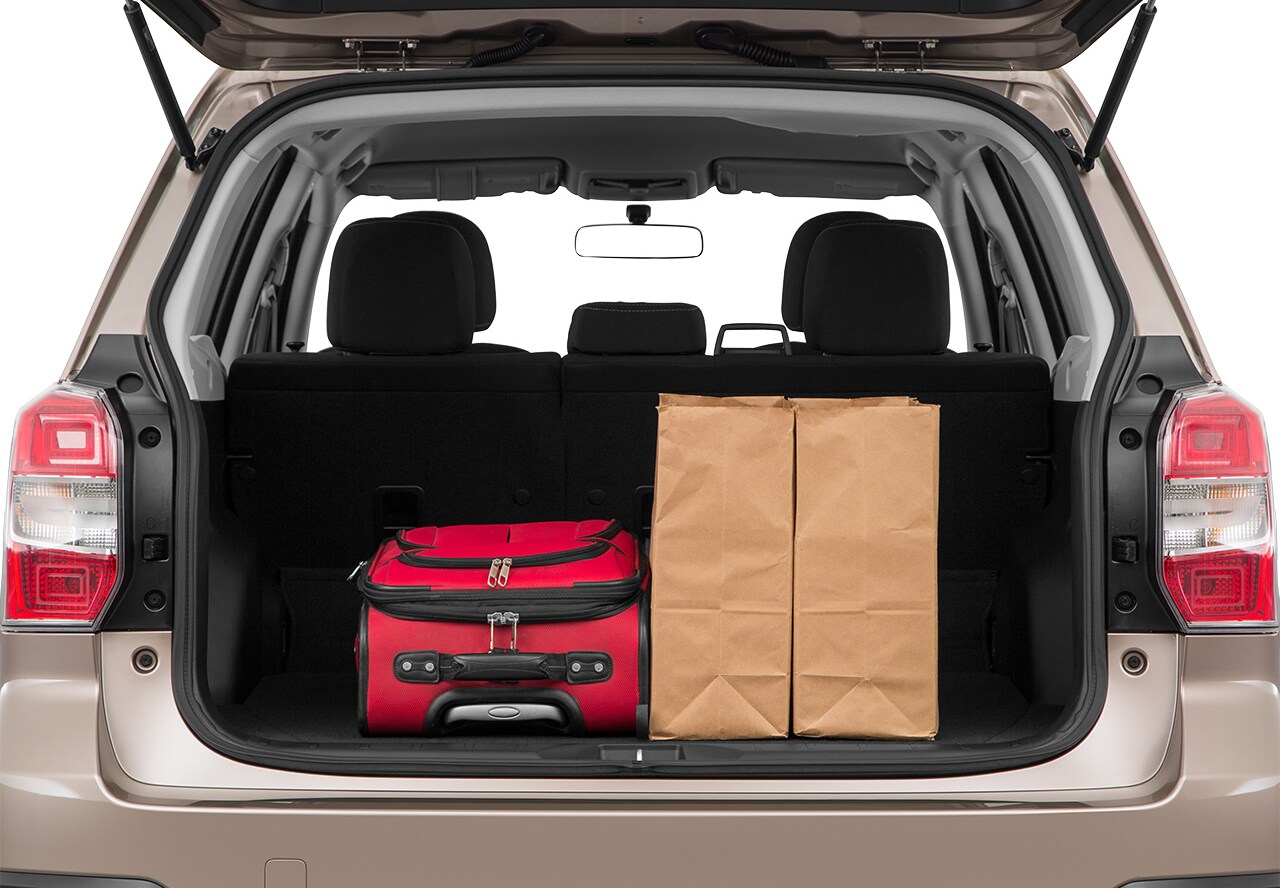 ---
Visibility
This goes hand in hand with safety. Visibility is important whether driving in the city or on the highway. After all, if you can't see what's around you, then you are at a much higher risk for collision. The Subaru Forester offers high visibility all around the vehicle thanks to large windows including on the hatch. The Jeep Renegade Trailhawk, on the other hand, has poor visibility out the hatch window. This has been noted through several driver reviews, and definitely raises a red flag of concern. The better visibility offered in the Subaru makes it the winner in this category as well.
---
Extra Resources
Anytime someone purchases a new vehicle, they want to know they get plenty of extra features without having to pay upgrade fees. This is another way the Subaru Forester stands out in its class. Standard on this vehicle, you will enjoy:
An alarm

A back up camera

Cruise control

An anti-theft system

Power driver mirrors
These are either available as options or not available at all on the Jeep Renegade Trailhawk. Additionally, there are upgrade options available on the Subaru that aren't available on the Jeep, including fog lamps, a luggage rack, an electrochromatic rear view mirror, remote engine start, and a cargo shade.
With all these features either available as upgrades or standard on the vehicle, the 2016 Subaru Forester definitely stands out when compared to the Jeep Renegade Trailhawk.If you are looking for your next vehicle and you have an offroad SUV in mind, then consider the Subaru Forester or the Jeep Renegade. While both are quality vehicles, it is quite clear that the Subaru is the winner of the two. Come to our Subaru dealership and take a Forester for a test drive today. You will definitely enjoy the ride.
**EPA estimated MPG may vary by transmission, trim and individual driving behavior.

Proctor Subaru
1707 Capital Cir NE
Tallahassee, FL 32308